The joyous holiday of Hanukkah is called the Festival of Lights. Celebrants all over the world have enjoyed oil-rich and fried foods to commemorate the holiday miracle that occurred nearly 2200 years ago. This year the eight-day celebration begins at sundown, Thursday, December 10 and ends in the evening of December 18.
The miracle of Hanukkah may be difficult to understand in the context of modern life, so let's think about it like this: Consider that your mobile phone had only enough charge for 24 hours, but instead it worked for 192 hours. That somewhat approximates the miracle of the first Hanukkah—without the awe.
During the rededication of the Second Jewish Temple in Jerusalem, about 200 BCE, an oil lamp—burning a flame that was never supposed to go out—remained lit for eight days, although there was only enough oil to keep it lit for one day. By the eighth day, enough oil had been purified and distilled to replenish the temple lamp. Hanukkah is a word that means dedication. Since that time, celebrants have lit candles to remember this phenomenon.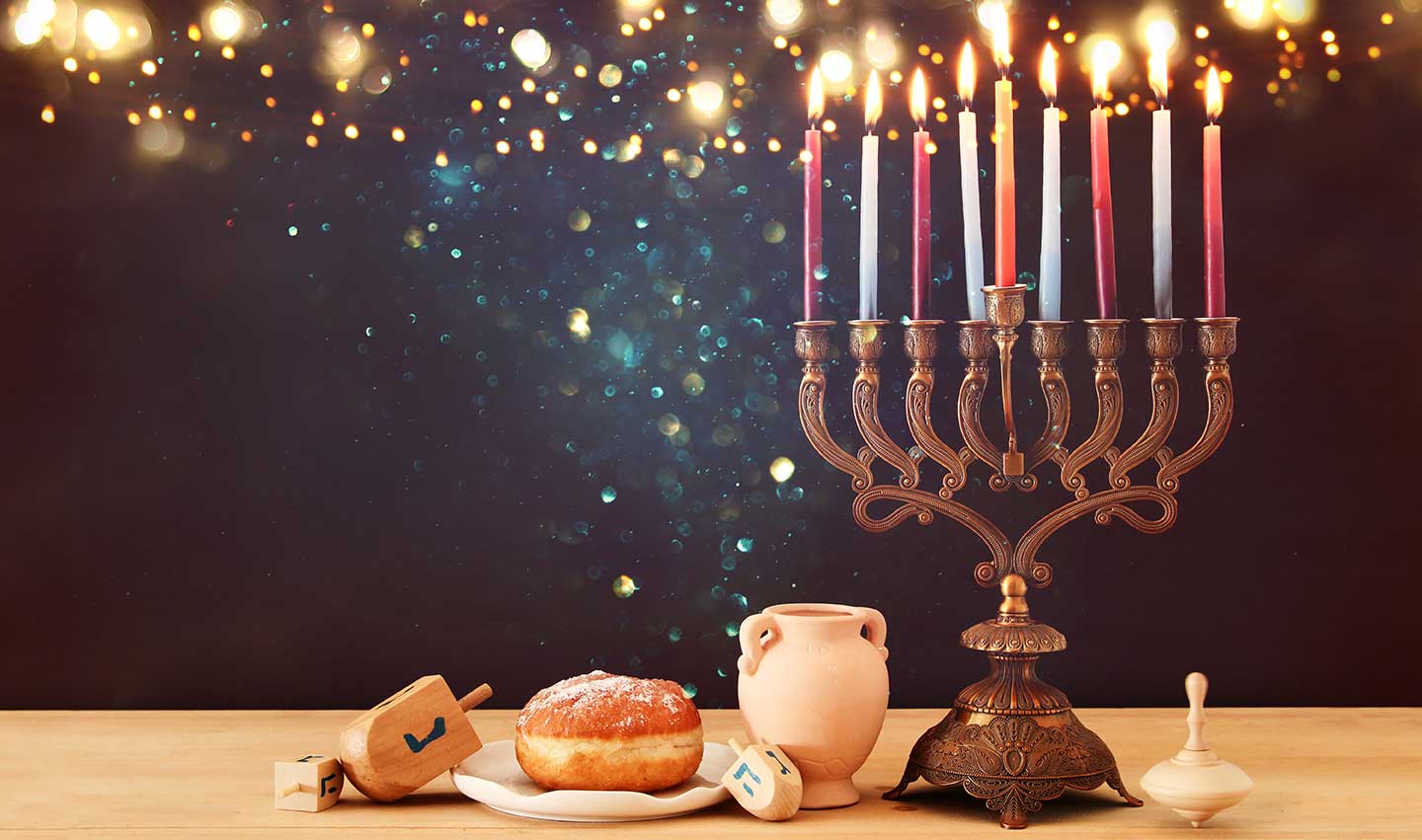 The most recognized symbol of Hanukkah is the nine-candle candelabra. The first candle is called the Shamash, which stands higher than the other candles. Only the Shamash may light the other candles. The Menorah receives one additional candle to light with the others at each sundown, until on the eighth night, all the candles are burning. Traditionally, gifts were not exchanged but children were given chocolate or coins. It is now common to see gifts exchanged and chocolates, in the shape of coins, given to children.
The tradition of lighting the Hanukkah Menorah commemorates the event, but eating fried foods and fried sweets is also part of the celebration.
Latkes Around the World
To understand how all these different versions of latkes came about, we have to remember that the Jewish people underwent many diasporas (dispersions), relocating entire communities and families in new areas of the world at different periods in history. The recipes below are flavored by the local cuisines within the main Jewish cultures: Ashekanzi, Sephardic, and Mizrahi. These cultures each developed their own features and flavors of the Hanukkah latke tradition.
Ashkenazi Jews originated from France and Germany. Many relocated in Northern and Eastern Europe and spoke mainly Yiddish. What most Americans are familiar with are the Ashkenazi-style potato latkes which became popular in the 19th century. Whereas Romanians make pasta latkes, most people today think of latkes as comprising potatoes: Think of latkes as super crispy hash-browns with onions, topped with applesauce and / or sour cream.
The basic recipe consists of grated potatoes, onions, salt, pepper, and a binder. Baking powder is optional. The latkes we recommend use matzo meal (wheat) as a binder along with egg-substitute. Gluten-free flour alternatives are plentiful. Use a high-temperature oil for frying. Sour cream topping can be dairy based or vegan, such as cashew-based.
Sephardic Jews originated from Portugal and Spain and relocated in Southern Europe from the Iberian Peninsula to the Mediterranean region (Greece and Italy), Eastern Turkey, and North Africa (Moorish) after the Spanish Inquisition. They spoke Ladino. Ashkenazi potato latkes evolved from the Italian Sephardic Cassola sweet cheese pancakes, which were fried in olive oil and served with fruit preserves or honey. Gil Marks clarifies that the term latke derives "from the Ukrainian word for pancake and fritter, oldaka, by the way of Latin, elaidia ('little oilies') and ultimately from the Greek elaion (olive oil)."
Rabbi Kalonymus ben Kalonymus (1286-1328) formalized fried pancakes as part of the Purim and Hanukkah holidays. Cassola, the popular large ricotta cheese pancakes from Rome, spread to northern Italy following the Sicilian Jews' banishment of 31 March 1492. Jews had invented baked ricotta cheesecake, which transitioned into the pancakes. Sephardic cuisine also includes latkes (keftes de prasa) that are fried leek patties.
Mizrahi Jewish cuisine originated from the Middle East, Persian, and Asian countries. Arab speaking Syrian Jews, who inhabited the region since ancient Israel, are known as Mizrahi Jews. Jewish-Spanish émigré Sephardim who settled in Aleppo, Syria, melded their cuisine with Persian and Indian flavors. Syrian latkes substitute leeks for potatoes, similar to Sephardic recipes, but they sauté the leeks in allspice, cinnamon, and hot pepper.
The Syrian latkes (kibbet yatkeen) are naturally egg-free fried latke patties made from bulgur, pumpkin, flour, onion, garlic, coriander, black pepper, allspice, cumin and cayenne. A variation uses cinnamon, nutmeg, and ginger.
Traditional latkes in the United States are made from potatoes, onions, and matzo meal. Blended communities create their own cuisine and variations. You can substitute leek or scallions for onions. Combine spinach and herbs to add to the potato. Top with dairy or vegan feta or yogurt, or top with walnuts and cheese. Season with garlic and rosemary. Use alternative gluten-free flours for matzo meal.
Homemade Applesauce
Applesauce is very easy to make. It can be tart or sweet depending on the apples you use. Ours is deliciously flavored with cinnamon. Serve with latkes or enjoy by itself.
2020 has been a challenging year for most of us, but we can still look forward to and take delight in the celebrations that we cherish.
We hope that you enjoy these recipes and have a happy Hanukkah! May the miracle of the season follow you wherever you go.
— Chag Sameach (Happy Holidays) from the Veggie Fest Team