Without Change, Nothing Changes;
with Change, Everything Changes
—John Salley
A 4-time NBA champion and former Chicago Bull, John Salley, sat down with our Veggie Fest team for an uplifting 30-minute chat. We found out how he's changing the world and who inspires him today. A modern Renaissance-man, Salley is a proud native of Brooklyn, New York, a wellness master and vegan advocate, an entrepreneur and philanthropist, an actor, activist and chef. He is actively involved with Operation Smile, PETA, and the fight against diabetes. In addition, John is involved with PCRM (Physicians Committee for Responsible Medicine) and visited Washington in Nov '09 and May '10, speaking to Congress about the Child Nutrition Act, asking Congress to support legislation that would increase vegetarian options in meals served in public schools.
Come out and hear John Salley speak on "Elite Athletes on the Plant-Based Diet" at 4PM on Saturday, August 10th. To learn more about John Salley and the Betta Life Path, visit www.johnsalley.com.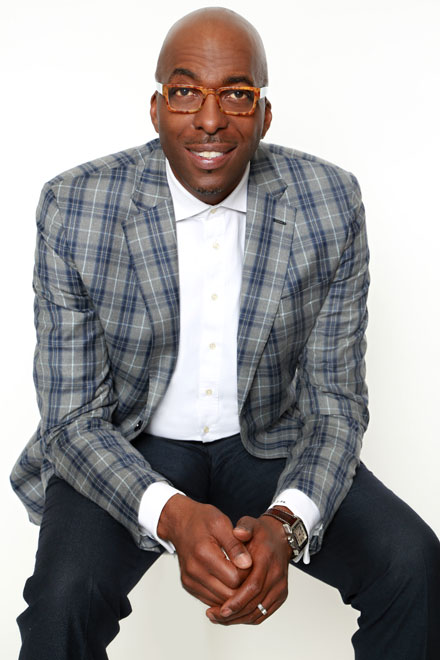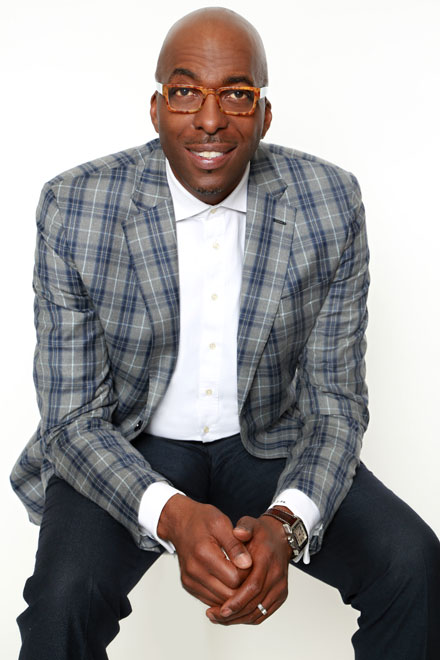 Q: We're looking forward to your Chicago visit. Any opening words you'd like to share with our fans?
John Salley: The Town is big into food, so I want every foodie to show up and hear me speak!
Q: That's our goal! Can you tell us a little bit about your own journey? Adopting a plant-based diet seems an unusual step for an athlete in the 90s when the medical community, especially at that time, was advising athletes to eat animal protein. What made you adopt vegetarianism and then a vegan lifestyle?
John Salley: I had high cholesterol at 27 years old. I was full of sugar, honey, and iced-tea—you can figure out those letters. Not only were the girls' I was dating telling me I was full of "sugar, honey, and iced-tea," but I had lower back pain from an impacted colon (so I was literally full of sugar, honey, and iced tea!). I became a vegetarian in 1991—what I call a lying vegetarian—and then one day I was doing a PSA for the vegetarian diet, and the food prepared at that event was all vegan. It was incredible, and I became vegan right then, never turned back. I tried to get my teammates and friends on board. I made my home vegan and stopped buying anything that hurt an animal or came from an animal. We took out the cheese and butter from our diet. I even took out the oil, so we don't use olive oil very often. We only use grapeseed oil—once in a while—and coconut oil when mixing my ginger tea. At the time, I weighed 265 lbs., and today I am the same weight I was when I was 25 years old, 238 lbs. Just weighed in yesterday.
People look at me today and say, "Looks like you can still play ball."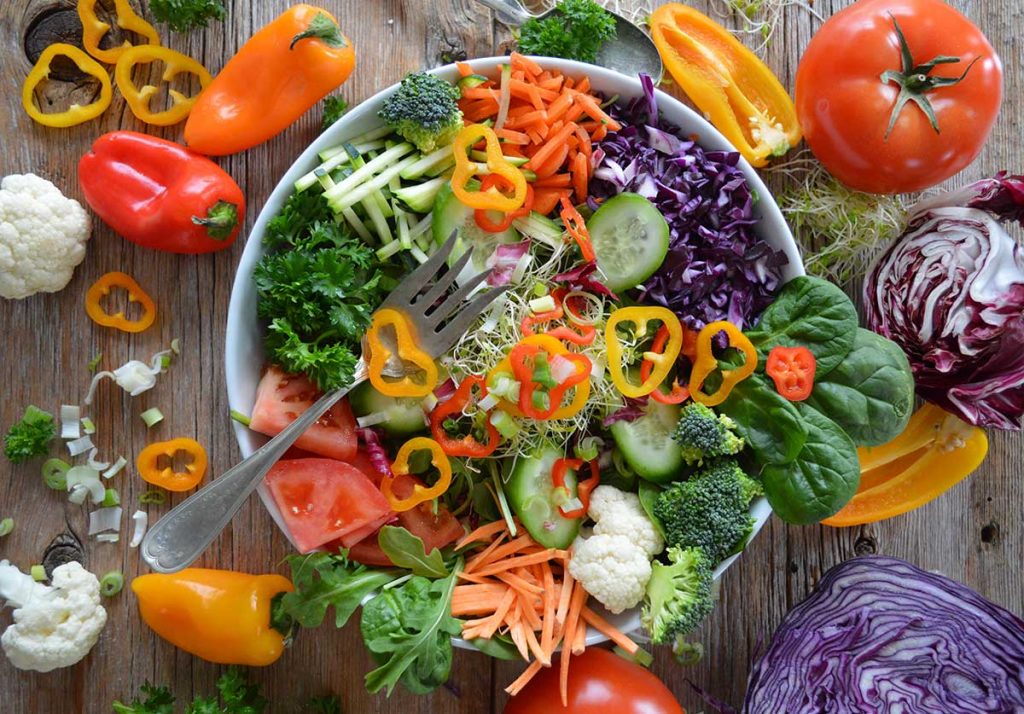 Q: Your health journey has blossomed into different business ventures and different roles. By no means have you been sitting idle. You are definitely on a mission to get the positive message out about the whole food, plant-based diet, and you are partnering with businesses that support that lifestyle. Since you are a foodie—and you're coming to a foodie-town—can you share with us what some of your favorite foods are of the moment?
John Salley: Okay, let's answer this question in terms of Chicago. I love pizza, and so now I have different cheeses coming out made from cashews, almonds, and coconut. I love food that has seasoning, dishes that you can create using as many different plants and seasonings. That's what I like the most. Right now, I became partners with a great plant-based pizza restaurant in Atlanta—completely alkaline with no white sugar, no white flour, no salt. And it tastes unbelievable. It's called Plant-based Pizzeria, and I'm bringing it to LA, and I've got to bring it to Chicago because I can make a deep-dish pizza. When I became vegan, pizza was the last thing I gave up, and it's something I miss. In fact, I wound up going all the way to Greece to find the best plant-based cheese for pizza. I found a mozzarella from out Thessaloniki in Greece called Violife. It's amazing.
Q: Pizza is definitely a mainstay for Chicagoans and New Yorkers alike.
John Salley: Food is tradition. People are ethno-genetic. Food hooks into your brain: You remember going to that pizza parlor that your dad loved where he showed you how to put the garlic on the slice, how to fold it, how to let the oil drop off it, how to eat it. That's all built in and part of the experience, so I found someone to make the dough the same way, to use the sauce and shred the cheese properly, and melt it properly. It's not Ray's pizza—my favorite pizzeria from back in the day—but it's a good substitute.
Q: With all the people you've met along your journey—from world leaders to pro-ballers, great actors, entrepreneurs and chefs, who inspires you these days?
John Salley: I'd have to say that, right now, Nipsey Hussle. (FYI: For our readers, rapper Nipsey Hussle was shot dead outside his clothing store, The Marathon, in Los Angeles in April, 2019.) I met him a while back and over the years, when I saw the moves he was making in his life, becoming an inspiration to his community through his music and entrepreneurship, I realized that a lot of his changes reflected the change he was making to his diet. He had become vegan and was pushing a lot of kids in the hood in that direction.
I strongly believe that in order to change your mind, you need to change your diet. I tell people that your mind is located in your lower intestines and your brain is in your skull . . .
You need to change what you put in your mind, and Nipsey Hussle was doing that, talking that. Thinking about LA, I'd like to add that I'm opening up a vegan strip mall on Compton Blvd in Los Angeles, and I'm putting vegan comfort food on the menu. That's my activism.
Q: We sometimes think of our body and mind as separate, but what you're saying is that how we feed our body influences everything about who we are—ethically, spiritually . . .
John Salley: Everything. And so Nipsey is an inspiration, and the other person who inspires me now is Jaden Smith, Will Smith's son. Jaden came out with the Boxed Water, knowing that paper was better for the environment. Jaden also came out with the I Love You Restaurant and vegan food truck for the homeless. He comes up with an idea, and he puts his money there. His footprint on the planet is light, but he's making a big impact, big changes.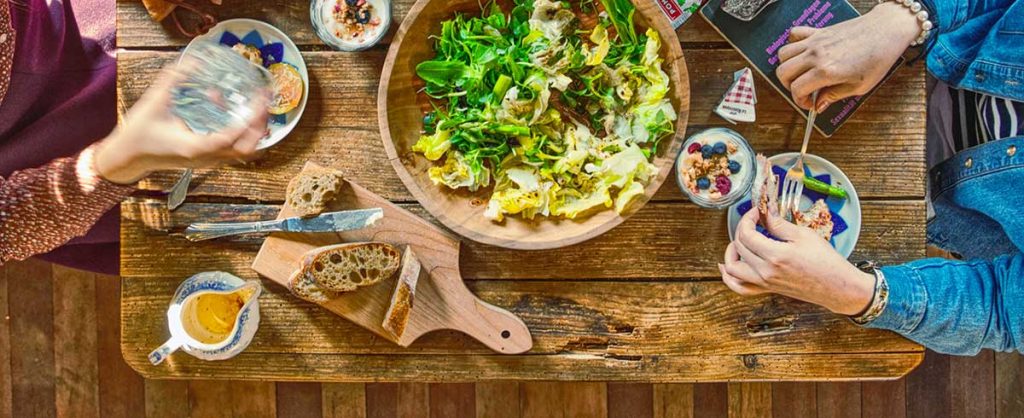 Q: John, it's been a pleasure talking with you today. All of us at Veggie Fest Chicago are pumped that you're coming to the festival and supporting our efforts here. Your message is positive and so is your whole being.
John Salley: I love life. This is my attitude. I stay and maintain in the positive view, and that's my form of meditation as well, so this is what I have to say to the Town—and I'm repeating what I said earlier: Chicago, I know you're big into food, so I want every foodie to show up and hear me speak!
-Kathryn Kruger for the Veggie Fest team