"So on Monday, October 1, it's World Vegetarian Day—the kickoff for Vegetarian Awareness Month that runs throughout October."
-Kathy Stevens (founder of the Catskill Animal Sanctuary), The Huffington Post*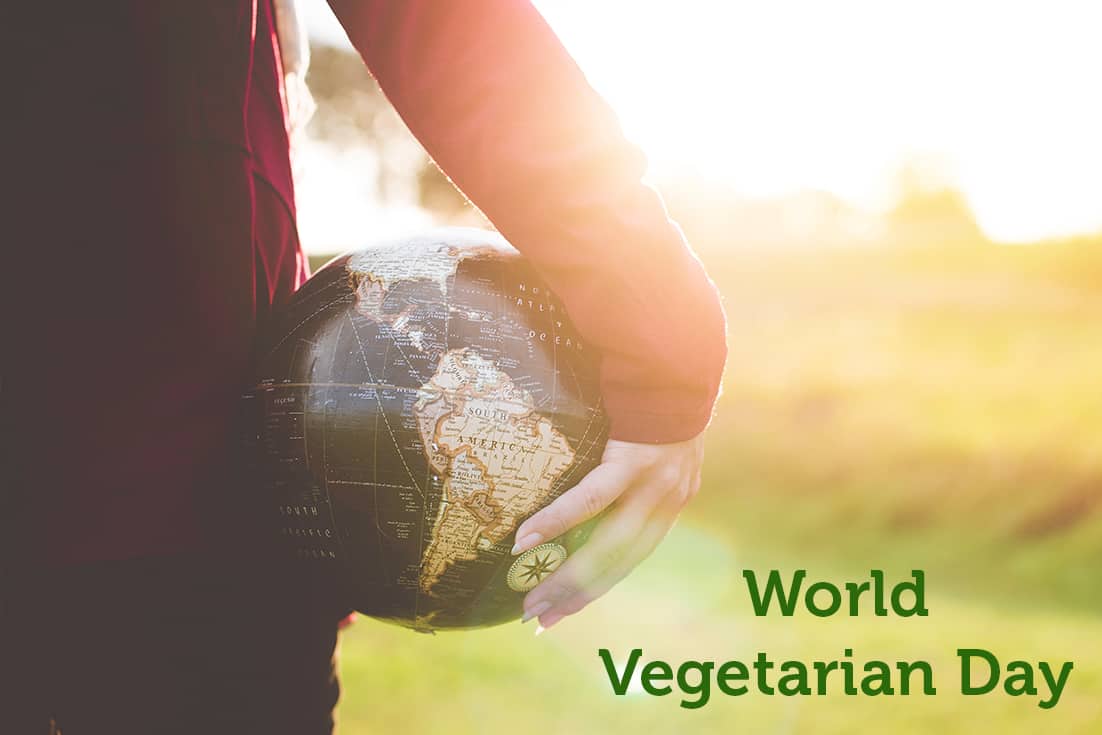 What is World Vegetarian Day?
The North American Vegetarian Society tells us, "World Vegetarian Day was founded in 1977 by the North American Vegetarian Society (NAVS) and was endorsed by the International Vegetarian Union in 1978. October 1st is the annual kick-off of Vegetarian Awareness Month. Make a difference this October by informing others about the benefits of vegetarianism. You will be helping to create a better world because vegetarian diets have proven health benefits, save animals' lives, and help to preserve the Earth." Read more:
https://worldvegetarianday.navs-online.org
Nonviolence
Vegetarian Awareness Month has a connection to Mahatma Gandhi. It's sometimes called Reverence for Life Month and is related to Gandhi's birthday (October 2nd) and to his principle of nonviolence.
Veggie Fest's keynote speaker, Sant Rajinder Singh Ji Maharaj, explains, "Besides the health benefits, there are spiritual benefits of eating a vegetarian diet." In "Vegetarianism and Spirituality," Sant Rajinder Singh says, "When we look at life through the consciousness of the soul, we begin to live in a gentler manner and start respecting all forms of life. This is one of the reasons that many people who are in touch with their soul turn to a vegetarian diet. […] Sir Isaac Newton, Mahatma Gandhi, and Albert Schweitzer are just a few examples of great philosophers, scientists, humanitarians, and world leaders who inspired others to adopt a path of nonviolence towards all creation." Read more:
www.sos.org/vegetarianism-and-spirituality
How can we celebrate World Vegetarian Day and Vegetarian Awareness Month?
Paraphrased below are just a few of the activities suggested by the North American Vegetarian Society:
Display posters, such as this one from NAVS, at libraries, supermarkets, churches, etc.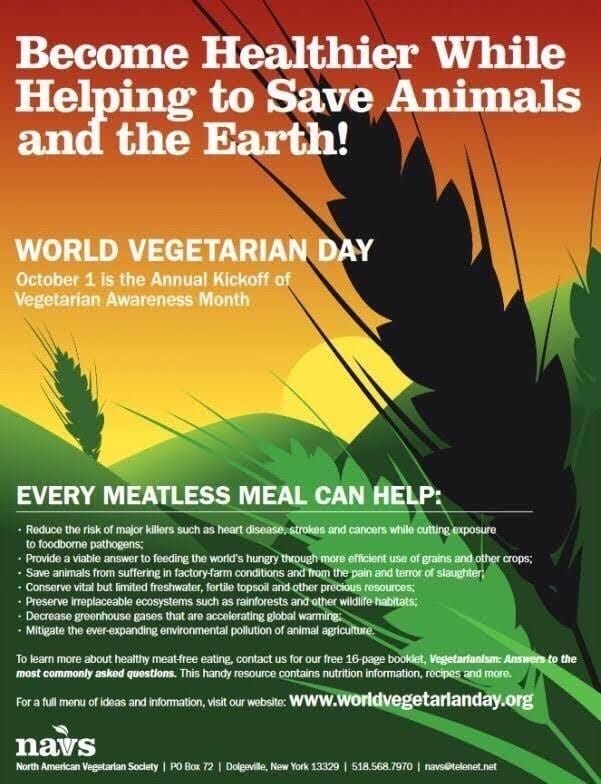 You can download NAVS posters here
Take vegetarian food to work to share with co-workers.
Invite friends and family for a celebration vegetarian meal at your home or at a restaurant, or host a potluck dinner.
Encourage restaurants and food stores to publicize their vegetarian options.
Ask libraries and bookstores to display vegetarian cookbooks and other veg titles.
Serve meatless meals at area homeless shelters.
For NAVS's complete list of ideas to celebrate World Vegetarian Day and Vegetarian Awareness Month, visit worldvegetarianday.navs-online.org/what-you-can-do/
For those who are not yet vegetarian, Veggie Fest provides diet-related activities to boost awareness: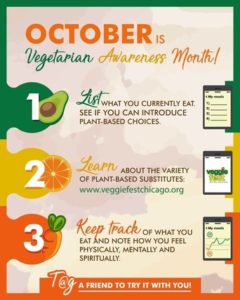 More resources:
*The quote from Kathy Stevens at the top of this blogpost is from her article, "Thirty Days, Thirty Reasons, Thirty Ways: Go Vegetarian In October!" Kathy is the founder of the Catskill Animal Sanctuary in Saugerties, New York. Read her article in The Huffington Post here.
Facebook:
https://www.facebook.com/WorldVegetarianDay/
Days of the Year:
https://www.daysoftheyear.com/days/vegetarian-day/