Ripe, organic berries boost your vitality and add nature's sweetness to salads, breakfast foods, and desserts. This article offers nutritional inspiration for two favorite berries—one for the summer and one for the fall.
Berries
Behold the mighty berry! Though small in size, berries in general, and blueberries and cranberries in particular, are powerfully nutritious superfoods that contain great amounts of antioxidants. These health-boosting phytochemicals protect against cancer, cardiovascular disease, and many other ailments. The ripest berries have the most antioxidants.
         Both blueberries and cranberries are native to North America, and Native Americans are credited with introducing these healthful fruits to early settlers. In addition to eating the berries, Native Americans relied on them for their medicinal properties. One common practice, for example, was to apply cranberries to arrow wounds. Today we know that cranberries have antimicrobial and anti-inflammatory properties.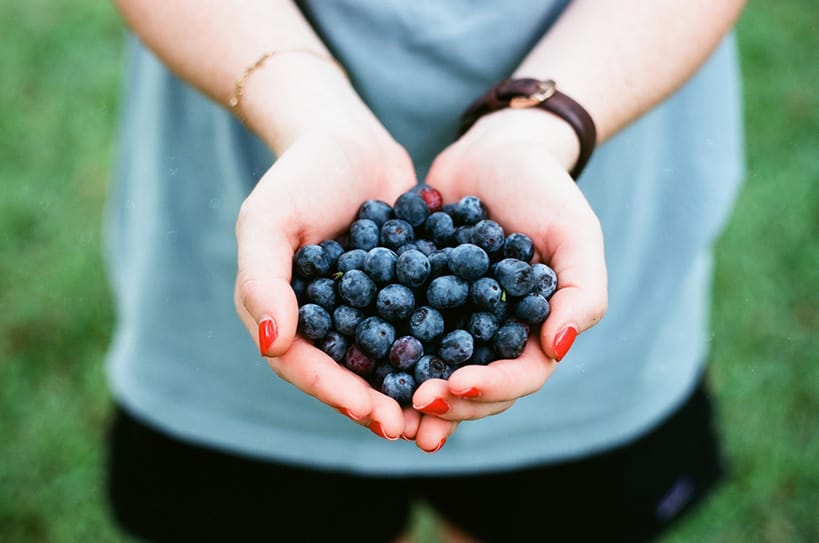 About 90 percent of the world's blueberries are grown in the United States and Canada, and these tiny fruits have tremendous bragging rights. For example, just one-half cup of blueberries–about seventy-five wild blueberries or forty to forty-five cultivated blueberries–has 7 milligrams of vitamin C, which helps the body use protein, heal wounds, and absorb iron. Vitamin C is also important for a healthy immune system. Since the body is unable to store vitamin C, daily intake is essential. Furthermore, blueberries are an excellent source of manganese, which is needed for bone development and for converting the proteins, carbohydrates, and fats in foods into energy. And last but not least, one-half cup of blueberries has 1.8 grams of dietary fiber. Most people don't get enough fiber in their diets, which is unfortunate because a higher intake of fiber improves digestion, decreases cholesterol levels, and protects against heart disease and type 2 diabetes
         One reason that cranberries are superfoods is because they have more antioxidants than other common fruits. In fact, cranberries have been found to have the highest total content of phenols (a type of antioxidant). Cranberries also contain vitamins C, K, and E, as well as fiber and manganese. Generations of people have used cranberries to prevent and treat urinary tract infections. Moreover, cranberries support cardiovascular health and have anticancer and anti-inflammatory properties.
         Like many other superfoods, berries are loaded with nutrients but are extremely low in calories and fat. One-half cup of blueberries has only 41 calories, and the same amount of cranberries, with only 30 calories, has even fewer. And all berries have essentially no fat and can be enjoyed in many ways. Fresh, frozen, or dried berries can be added to smoothies or baked goods. Most berries are delicious fresh, just as they are, or added to salads or cereals. Cranberries, however, are too tart to be comfortably consumed fresh and whole, so they're often used in the manufacture of juice cocktails or sauces. Many of these commercial products contain excessive amounts of corn syrup and undesirable sweeteners. Even dried cranberries contain sugar or other sweeteners.
         To avoid the sweeteners typically added to cranberry products, purchase 100 percent fruit juices (cranberries may be blended with other, sweeter fruits in these natural juices) or buy fresh cranberries and incorporate them into dishes made with other whole foods. For example, fresh or frozen cranberries can be used in blended juices or smoothies, with dates or other fruits added for sweetener. In the fall, fresh cranberries are available in most supermarket produce sections and can be frozen for up to one year.
        Cranberries grow on vines in impermeable beds that are layered with sand, peat, gravel, and clay. These beds are known as bogs. One harvest method is to flood the beds and collect the berries from the water: people who have seen this process may assume cranberries are grown in water, but that's not the case. The fruits that are harvested by water are typically used to make juice and processed foods. Cranberries that are sold fresh in the supermarket produce section are typically picked by hand or machine between mid-September and mid-November.
        Peak times for fresh blueberries range from May to August. The blueberries are generally sold in pint or half-pint containers. One pint of fresh blueberries contains about two cups, or about four servings. Whenever possible, select organic blueberries. Conventionally grown blueberries are cultivated with large quantities of pesticides.
      If you're lucky enough to have access to blueberry bushes, it's good to know that the berries reach their peak ripeness in two to three days after turning blue. Freshly picked but unwashed blueberries will keep in the refrigerator for about ten days; those purchased in the store might not last as long because these berries are not as fresh and have a tendency to become moldy. When blueberries are in season, try freezing them. When you can't get your hands on fresh blueberries, look for frozen blueberries in the grocery store.
Reprinted from Superfoods: Nature's Top Ten by Myrna Chandler Goldstein, MA and Mark Allan Goldstein, MD (Summertown, Tennessee: Books Alive, 2014): pp 5-7. www.bookpubco.com
If you love berries and their healing properties, try our
Summer Salad
recipe!