On January 10, 2019, our Veggie Fest team had the pleasure of interviewing Dr. Terry Mason who has been a featured speaker at Veggie Fest for many years. Dr. Mason is the Chief Operating Officer for the Cook County Department of Public Health and will be speaking on Food: the Cause and Cure of Disease. Join us at the Science of Spirituality International Meditation Center on Saturday, January 26th from 1 – 2:30pm. In the meantime, this is what Dr. Mason had to say to us earlier this month.
Dr. Mason, we are honored that you have given us your time today to ask a couple of questions for our Veggie Fest news-feed. What is significant to you about the health benefits of a vegan diet?
A plant-based diet plays into the prevention of disease. There are studies now that show that when you drip the serum (derived from blood) from a plant-based eater onto prostate cancer cells, it helps kill those cells at a rate of about 79% as opposed to the blood from a meat eater that kills only about 9% of those cells. There are more and more significant medical studies like this one coming out every year.
What is one of the most inspirational moments in your career?
There have been so many inspirational moments in my career, but the more recent one that comes to mind is being interviewed for the movie, Forks Over Knives. I was sitting at Soul Vegetarian Restaurant in Chicago for the interview and a year later the movie came out.
I went to the Chinese Theater in Los Angeles to watch the screening and was really moved. Forks Over Knives is a documentary where people tell their story, making an emotional connection, talking in an unscripted way, which gives the topic more validity than anything else you could ever do. This movie is one of the staples in the conversation about plant-based eating.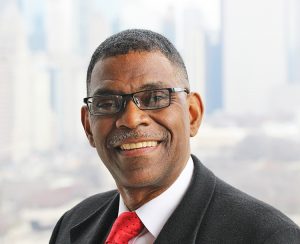 What foods do you suggest to your patients and clients to help them on their journey toward better health?
I tell my clients to just add more vegetables, and add a bit more each week until their plate is crowded with fresh, delicious vegetables. I have them watch Forks Over Knives, and I have them talk to other people who have made this transition. I want people to understand that this is not a boring diet. It is the most natural and is age-old. This diet has been with us as long as we have been on the planet. I tell people that if a meat-based diet is so good for us, then why do we spend more money than any other country on the planet, and yet our health outcomes are worse than those where they spend less?
When did you first become a vegan?
It was a process for me, too. I didn't wake up one morning and say to myself, "This is what is going to happen!" I did what I suggest others do: I started to crowd the plate. Eventually, I got to the point where I realized I didn't need any animal products or by-products anymore . . . It's been for me not less than seven years. I tell my clients, that you get benefit even if you eat this way part time. I also let people know that food choice is a journey. I'm not the food police. I think a lot of people get fixated and over-zealous. Don't give up. This is a journey, not a trip.
You have been a keynote speaker at Veggie Fest Chicago for a number of years and have broadcast your radio show, Dr. in the House at the Fest twice. What do you love about the festival?
First of all, I think it's an amazing event put on by some amazing people. I love that the food is prepared centrally so that there is continuity and consistency in the quality of food.
The success of the festival shows that people have a tremendous appetite to get more information about plant-based eating. There is no judgement at the festival. No one asks you when you enter the festival if you are a plant-based eater or not. The festival also shows people that they are not alone. There are 100s of thousands of people eating this way. You see more and more African-Americans coming out to the festival. It's a fantastic event. Where else can you go and have an extraordinary array of foods, entertainment, and education altogether? How can you top that?