Whether you heart Valentine's Day to the moon and back or you would rather toss it (and all its commercialism) to the curb, February is a perfect time to throw a Chocolate Party!
Make it a POTLUCK, and you and your friends are bound to have a deliciously fun time indulging in an assortment of rich, decadent sweets.
Here are five questions to ask yourself as you get ready to make your Chocolate Potluck Party one to remember: 

First things first – the FOOD!
1. As the Host or Hostess, What Will You Be Serving?

Some of your friends may pull out their Martha Stewart apron and whip up a Pinterest-worthy treat from scratch, while others may grab a few bags of Whoppers at a gas station and be done with it. Still, others might (unintentionally) create a dessert that would qualify for an episode of Nailed It!

As Forrest Gump said, ". . . you never know what you're going to get!"

So as the host or hostess, you can provide a chocolate treat that serves as a focal point for the evening. This way, there's something special no matter what your friends bring. Here are a few ideas for special offerings:
Hot Chocolate Bar


Your guests will love this, especially if your party is on a cold wintery night. In addition to hot chocolate packets and hot water, be sure to load up on whipped cream (dairy and vegan), vegan marshies, Mexican spices, red hots, cinnamon sticks, sprinkles, chocolate syrup, chocolate chips, smashed peppermint candy, caramel syrup, and pirouette cookies. Display an assortment of cute mugs, or suggest that your friends bring their own.
Chocolate Fondue or Chocolate Fountain


Let the chocolate flow! Set out a variety of goodies for dipping such as pineapple, strawberries, bananas, cake cubes, shortbread, pretzel sticks, vegan marshmallows (we like Dandies brand), whole nuts, potato chips, even mini peanut butter cups! Be sure to have plates, spoons, forks, and toothpicks available.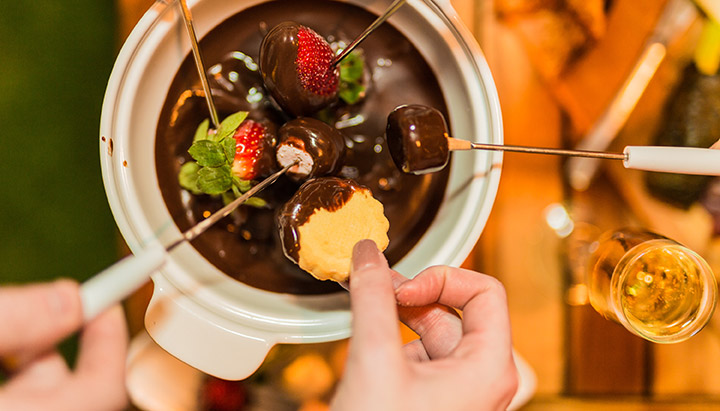 Cookie Decorating Station


Bake some eggless sugar or chocolate cookies, and put out an assortment of frostings (especially chocolate!) and get drizzling! Tiny candies and sprinkles can be included so your friends can personalize their cookies before indulging. This is an especially fun activity to have at your Chocolate Potluck Party if you'll have kids attending.
And now some other important aspects of the party planning…

2. When Is the Big Event Going to Happen?

If you and some of your friends are single, why not hold your Chocolate Potluck on the night of Valentine's Day? This way, you can spare each other from another evening alone, endlessly scrolling social media, or eating a box of mystery chocolates in bed with a bad Rom-Com on Netflix. You'll find it infinitely more heartwarming to celebrate your friendship, singleness, and love for each other over a huge buffet of chocolate desserts—we promise!

February 14th can also be a great night to have couples over if you and your partner are open to sharing the holiday with your friends or coworkers. However, if you have other plans on Valentine's Day, any day in February will do for your chocolate smorgasbord — even a daytime party if you if you want to include little ones.

3. How Will You Get the Word Out?
Sure, you can use a free service like Evite or Paperless Post to send an invite by email, but you can also make a cute image on Canva or Mematic by putting text on an image you can share easily by text.

If you're not feeling up to creating your own, do a search for "chocolate meme" or "death by chocolate meme" and see if you find something that conveys the mood for your Chocolate Potluck. Text the pic to your friends and follow it up with the details for your chocolate shindig.

Pro Tip: Don't send your invite as a group text or email. Take the time to send your invites one by one to make sure your guests feel special (and to avoid annoying them with group replies).
4. Do You Have Any Special Considerations?

The word "niche" is used frequently in the business world, but it applies to parties, too! Having a chocolate party is pretty refined already, but do you want to take it further?

Maybe you want your party to be gluten-free, in addition to focused on chocolate. Maybe your soiree will be all vegan. Do you want to link your event to a charity and have guests bring canned goods, books, or extra winter gear to donate to a local organization? Should all your guests come wearing red?

After you've determined all the extras, convey this in your invitation so your friends know exactly how to participate and get the most fun out of your party.  

5. What About Decorations?

Whether you're having the party at home, at your office, or in a church's dining hall, it's easy to make your space look festive. Tablecloths, balloons, paper products, and table decorations come in a variety of colors and patterns.

Consider these easy-to-work-with color combinations:
Traditional: Red, Pink, White
https://andersruff.com/custom-printable-parties/wp-content/uploads/2015/02/2015-02-14_0024.jpg
Mocha: Brown, White, Pink
https://i.pinimg.com/564x/7a/7d/51/7a7d513a11674f9b38b2f29f63ec22f6.jpg
Elegant: Black, Gold, Red
https://i.pinimg.com/564x/c1/3d/ab/c13dab152f9e2632a2306471f7b9ecf4.jpg

Whatever your theme, keep some index cards and markers on hand so guests can label their desserts when they arrive.
A Chocolate Potluck Party can work for intimate gatherings or big groups of over a hundred. No matter the size, it's all about being together with your friends and dear ones for an evening of love, friendship, and connection. And let's face it, the chocolate doesn't hurt, either.

Happy Valentine's Day from All of Us at Veggie Fest!
If you're looking for more inspiring chocolate recipes, take a look at our Gluten-Free Chocolate Chunk Cookies, Churros with Hazelnut Chocolate Sauce, Café Cocoa, and our Chocolate Mousse recipes! Keep the chocolate flowing all February long!
-Mona Rae for the Veggie Fest Team!