I became a vegetarian 43 years ago, choosing a lacto-vegetarian diet that eschewed meat, fish, fowl, eggs and their derivatives, but I still consumed dairy products. It was an easy, compassionate lifestyle that suited me well.
Since then, I have moved to the countryside of northern Michigan, and have a large vegetable garden that provides my husband and me with veggies, fruits, and berries. In addition, the variety of wild things growing in the area is astounding. I can supplement my diet with vibrant greens and mushrooms that abound in the woods behind our house. Slipping down to the stream in early spring to collect watercress, dandelion shoots, and cattails, or walking the woods in May and September for morels and chanterelles, are enjoyable activities for me.
When I decided to become vegan three years ago, I found that I missed the taste and function of butter and cheese. I tried the store-bought varieties, and they filled the gap. After all, there is an amazing array of products available, but I was never entirely satisfied. After almost two years of finding substitutes for milk products, I began to think of making my own cheeses.
A year ago, I started viewing several YouTube tutorials. The precise cheese-formulating process became clearer, so I armed myself with a variety of cheese-making cookbooks, several special ingredients, and took a leap.
I started with one of the easiest cheeses to make, namely a replica of feta, the Mediterranean Herbed Feta. After all, I grew up in Greece and was missing the taste of feta in my homemade Greek salads.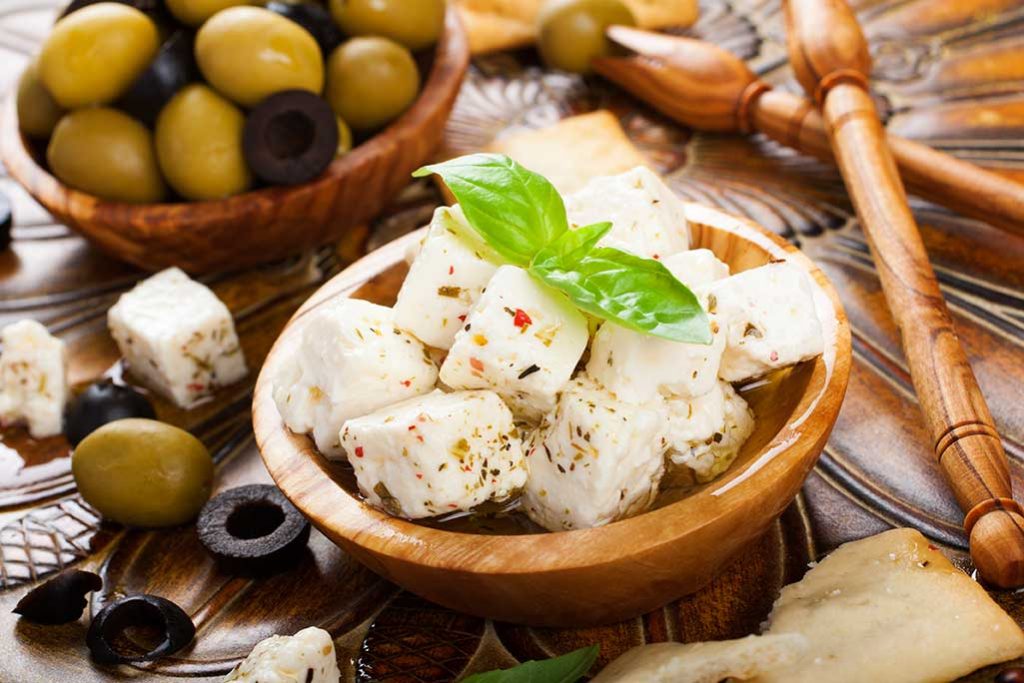 There are many hits-and-misses in making cheese, but I was lucky because that first attempt was a success. That's when I was hooked. I saw how easy it is to make cheese at home, so I ventured with other over-the-stove cheeses: Smoked Gouda, Mozzarella, Provolone, and Swiss. Then, I branched out to cultured and aged nut cheeses like Blue Cheese, Sharp Cheddar, and Brie. Finally, I started to create butter, yogurt, and mayonnaise.
The beauty of the process is that even if I make mistakes (omit an ingredient, or cook with too high or low heat, etc.) and the final product is not exactly what I was hoping for, the cheese can still be salvaged in a different form. I can make a cheese sauce out of it, or use it to stuff ravioli, or simply pour it over steamed veggies.
Making cheese at home is easy—really easy! Nevertheless, since there are special ingredients that you will need, my advice to you is to prepare ahead. Order online and have all the ingredients on the countertop: not just in front of you, but measured out in their own little bowls.
This gathering of ingredients is called "mise en place." This detail is important, because some components have to be introduced first, and some at the end of the cheese-making process.
There is an alchemy that takes place in making cheese—any kind of cheese—and to see and taste the final product is very rewarding.
With some quiet time and the willingness to experiment, you are all set. You will need a cookbook to start with, or you can watch YouTube videos. The cookbooks I recommend are, Non-Dairy Evolution Cookbook: A Modernist Culinary Approach to Plant-Based, Dairy Free Foods (NDE) by Skye Michael Conroy; This Cheese is Nuts: Delicious Vegan Cheese at Home by Julie Piatt; and Artisan Vegan Cheese by Miyoko Schinner. They cover the array of cheeses you want to start with. NDE has the best detailed instructions for success. There are several pages of in-depth, step-by-step instructions, which are invaluable in the beginning. I suggest you read and reread the instructions in order to familiarize yourself with the process.
The main ingredient of the cheeses can be soy and/or almond milk, or a variety of nut milks. If you are soy or nut intolerant, there are recipes for steamed rice-, oat-, or sunflower seed- cheeses. Your imagination is the limit.
If you are transitioning to the vegan lifestyle and you miss some flavors and tastes from your earlier non-vegan life, making cheese at home is affordable, easy, and very satisfying. Sometimes, I still buy vegan cheese from the store, just to compare the taste and to investigate what ingredients are used, but I always return to making vegan cheese at home. Also, we have a special vegan feta cheese recipe for you by The Gentle Chef (Chef Skye), check it out!
–Lizzie Treefon for the Veggie Fest Team


Lizzie Treefon arrived in the USA from her native Greece more than 40 years ago. She is a retired High School world language teacher and an avid gardener. On her 20-acre homestead in northern Michigan, she and her husband, John, grow and preserve food to last most of the year. Although a long-time vegetarian, she has now embraced the vegan lifestyle, creating her own dairy-free cheeses and meat alternatives. When not tending her garden, she travels around the world to participate in meditation retreats and seminars.