When I was growing up, my mother was a wonderful cook, known for her baking and gravy. There was always a full cookie jar and baked goods of every sort. Meals were simple but often filled with fat. Vegetables, when served, were usually tasteless and out of a can. I loved her cooking, but because of it, I was a chubby child and an overweight teenager. Before I graduated from high school, I was able to trim down. This gave me more energy and self-confidence. Later in life, I learned how to cook delicious foods without the fat content associated with "good home cooking." 
Years later, when I discovered a whole food, plant-based diet—and a way of cooking without oil—I've been able to control my weight successfully while also increasing my health and stamina. In this blog, I'm going to provide tips for oil-free baking, roasting, sautéing, and flavoring. It's easier than you think, and once you learn these tips, you will be able to make your favorite recipes and reduce the fat content substantially.  
The reason for reducing oil in our diet has everything to do with health. Linda Scotti is a nurse and educator with an expertise in nutrition. She's also a regular blogger and member of the Veggie Fest team who will explain the science behind this cooking and health strategy. She says, 
Oil is a processed food. All oils, including olive oil, are extremely low in nutritive value. All the nutrients—including protein, carbohydrates, vitamins, minerals, fiber, and water—have been stripped away. Oil is nothing but fat – empty calories. It has more calories per gram than any other food. One tablespoon of oil contains 120 pure fat calories. Since oil has no fat-binding fibers, it's absorbed rapidly and stored away as body fat within minutes. Several scientific studies have demonstrated that oil is harmful to the endothelium (the innermost lining of the arteries) and that injury is the gateway to vascular disease. 
Dr. Caldwell Esselstyn has demonstrated that a plant-based, oil-free diet can not only prevent and stop the progression of heart disease, but also reverse its effects. In his book, Prevent & Reverse Heart Disease, Dr. Esselstyn documents his 20-year nutritional study with scientific evidence. Esselstyn is quick to point out that scientific evidence indicates consumption of processed oils (whether monounsaturated, polyunsaturated, or saturated) contribute to obesity and diabetes, increased triglycerides, endothelial dysfunction/impairment and atherosclerotic lesions. 
Dr. Robert Vogel at the University of Maryland reported in the Journal of the American College of Cardiology that olive oil was found to reduce flow-mediated dilation (FMD) by 31% after consumption. Flow-mediated dilation is a non-invasive vascular test which measures blood vessel health. The endothelium releases vasodilators, including nitric oxide, which cause dilation in healthy arteries and keep the blood flowing smoothly. A decrease in FMD is a predictor of cardiovascular disease. In simple terms, the olive oil may impair your arteries ability to relax and dilate normally. 
Cooking and Baking Without Oils 
If you are used to adding oil and fats in your cooking and baking, you might think nothing will taste good without it. While your baked product will definitely taste different, it can still be tasty. It took me a lot of years and a lot of reading to uncover the tricks for making food cooked without oil to be just as delicious. I hope you will use these tips to try cooking and baking without oil in your home. 
This muffin recipe uses pureed, crushed, or mashed fruit to replace the oil and add sweetness. You can have them ready in less than an hour. They are good for breakfast, snacks or in lunch boxes. There are several variations, but feel free to be creative by following the master base for muffins.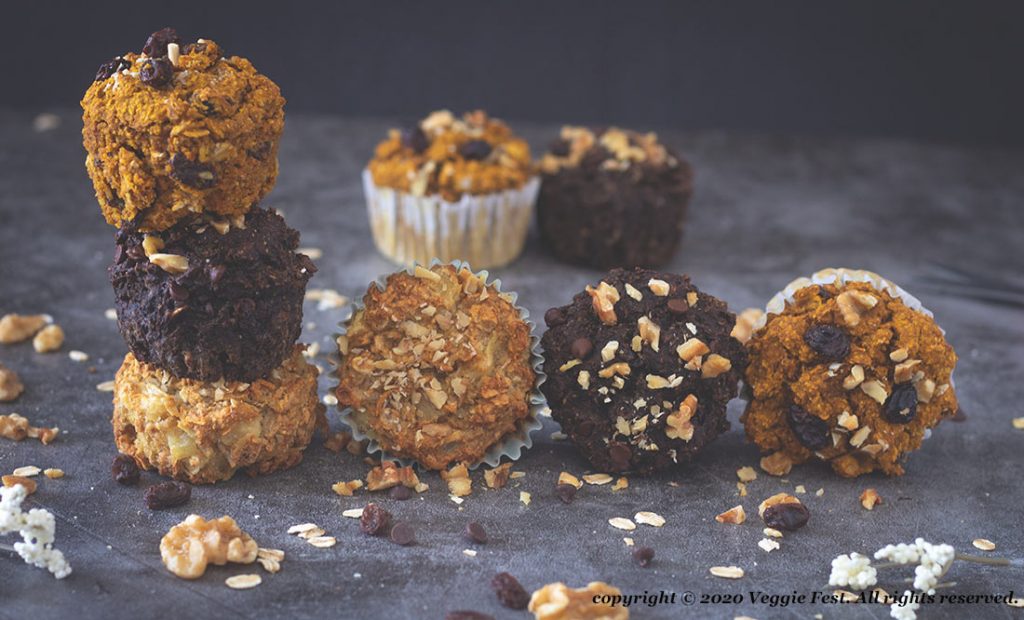 Sautéing Vegetables 
One way to add a lot of flavor to your recipe is to caramelize your onions and mushrooms, if using them. Start with a good quality non-stick skillet. Prep your vegetables and then preheat your skillet on a medium high heat. When your pan is hot, add the onions. You need to watch as they cook, but you don't need to stir constantly. After a few seconds, the vegetables will release moisture. After a few more seconds, they will start to brown. This is the step where the onions need to be carefully watched to prevent them from overbrowning. At some point, if they start to stick to the pan, just add a tablespoon of veggie broth or water and stir it around. After about a minute and a half, turn the onions down to low medium and put a lid on the skillet, continuing to stir often. If they start to stick, add a little more liquid. Cook until they reach a nice caramelized state. 
If you are adding mushrooms, after about two minutes of cooking the onions, add the mushrooms to the skillet. They release even more moisture so that you may not need to add any extra liquid. Continue to cook at the higher heat until the mushrooms begin to brown. At this point, turn the heat down to low medium and put a lid on the skillet, continuing to stir often, adding a little liquid as needed. Sometimes, the mushrooms release more moisture than you want in your recipe. No problem, just take the lid off and turn the heat back up to medium high. Stir until all the moisture has evaporated. 
You will be happy with this method of sautéing vegetables. It works for more than just onions and mushrooms. You can use this technique to make a dish of sautéed cabbage or pan roasted Brussels sprouts or even asparagus. The trick is to start with a hot, dry skillet and stir until your vegetables just start to brown. This releases the sugars in the vegetables and adds so much flavor to whatever recipe you are making. 
Roasting Vegetables 
Sometimes, you will want to roast vegetables like Brussels sprouts or root vegetables. You can still leave off the oil with good results. For dense vegetables like potatoes, it helps to parboil them before you roast them. For instance, when I make oven fries, I cut them in the shape I want, cover them with water and bring the pot to a boil. As soon as the water boils, I turn the heat off, drain the potatoes and put them in the oven on a baking sheet or roasting pan lined with parchment paper to keep the vegetables from sticking. 
Another tip that helps get a nice crisp to a vegetable is to use a parchment lined pizza pan with holes in it. Cook the vegetables for half the time that you normally would, remove the parchment paper and leave the vegetables on the pan. The holes help to give the vegetables a nice crisp finish. Start out at a moderate temperature, 350°F, and during the last two or three minutes, turn up the oven to 450°F to finish to the crisp stage. Check the vegetables slightly before the time when you think they might be done. The cooking time may be reduced if you use this type of pan. 
Lentil Millet Sweet Potato Plant-based Burger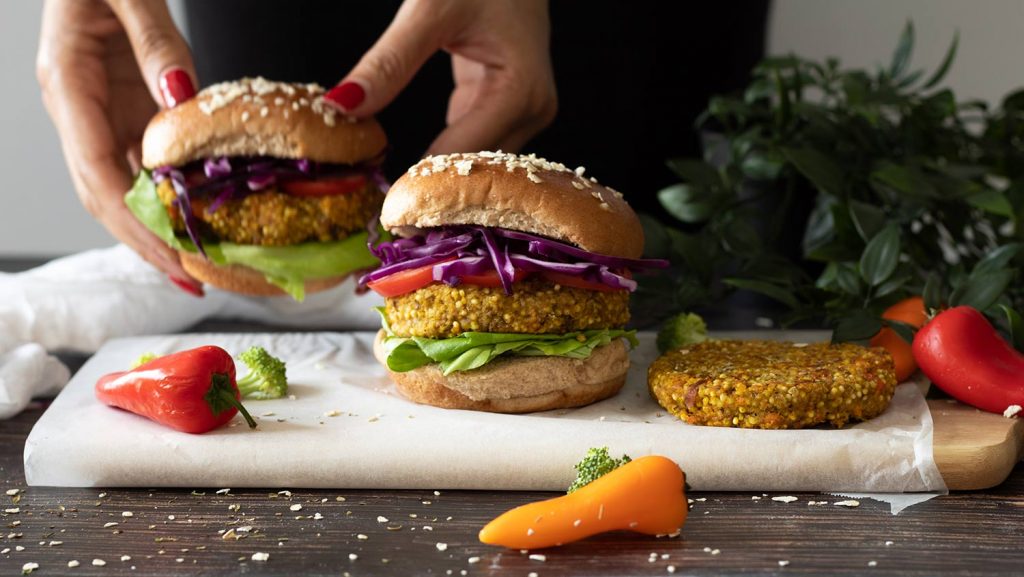 The Judicious Use of Flavorings 
When you are eliminating oil from your diet and possibly even eliminating or at least reducing your sodium intake, you have to add flavorings to your recipes to fool your taste buds into not missing the fat and sodium they are used to. There are two things that help you do this. One is adding something sweet and the other is adding something tart. Citrus fruit is wonderful because it can add both flavors with one squeeze.  
Fruit in salad 
I often add whole fruits to a salad, for instance, because it really perks up the flavor of the dish. Think pineapple chunks, orange slices, and crisp apple slices. In the summer, you can even grill peaches or nectarines and add them to your salad or add a handful of strawberries or raspberries for that real summertime flavor boost. 
Steaming vegetables 
Here's how I prepare most side dishes of vegetables so that I never miss the butter or oil. I start by steaming either fresh, raw vegetables or a bag of quality frozen vegetables. You need to learn the correct times for steaming and with a little and trial and error, you will become a pro. Start with a pan of boiling water, about 2 inches in depth. Once the water is boiling, add the vegetables to a steamer basket and place it over the pan. If the vegetables are fresh, they will only probably only take 1-3 minutes to become tender. If they are frozen, the time is about doubled or a little more. Just watch them to ensure they don't overcook because you can end up with mushy vegetables rather quickly. 
Once the vegetables are tender, take the steamer basket out, and set it on a hot pad or trivet. To the warm pan over medium heat, add about a tablespoon of low sodium soy or tamari sauce with a teaspoon of minced garlic and about a half tablespoon of a good quality balsamic vinegar. Stir for about a minute to cook the garlic. Add the steamed vegetables, toss and serve. If you don't want to use the balsamic, you could add a tablespoon of freshly squeezed lemon to the steamed vegetables and toss it in the warmed soy sauce and garlic mixture. Also, before you toss the vegetables, you can add the herbs of your choice such as basil, tarragon, Italian seasoning, etc. 
Balsamic Vinegars 
There are many good flavored balsamic vinegars on the market. They can be expensive, but they can really add to the flavor of a meal. I love to go into a balsamic boutique shop to sample the flavors. Citrus flavored vinegars add a sweet tart note to salads or vegetables. Chocolate or vanilla vinegars are great over fresh or poached fruit for desserts. Try a few different flavors for an incredible taste treat! 
Citrus 
A squeeze of either an orange or a lemon can perk up many dishes from beans to stir fries. When I started cooking without oil and lower sodium, I started thinking about the flavors that I like and played with different seasonings. Don't be afraid to try something. Just remember that with some flavors, a little goes a long way. Try a little seasoning, taste, and adjust by adding a little more until you get the dish just the way you want.  
Baking Without Fat 
Baking without adding fat is a little trickier. Some recipes seem to have no problems when you substitute other things for the oil or butter. To me it's always worth a try to experiment with favorite recipes to see what works. I've made cookies, cakes, and quick breads that are tasty without the addition of oil. They are usually moister and less fluffy than pastries and breads made with oil, but they are equally as good and a lot healthier. The one pastry that I have never been able to come up with is a traditional pie crust that is usually made with vegetable shortening or butter. If you want a pie, you will have to find recipes that typically use nuts and dates that will hold together and make a suitable base for your pie fillings. 
For substitutions in your baking try using  
unsweetened applesauce or mashed bananas to replace oil or butter and 

 

prune puree to replace butter. 

 

Another substitute you can use to replace oil or butter is ground flax seed. Use 3 tablespoons of flax and one tablespoon of water to replace every tablespoon of oil or butter. Stir and let sit for 2 minutes before mixing in with your other ingredients. 

 

Flax is a good substitute for eggs, too. Use 1 tablespoon of ground flax and 2 tablespoons of water to replace one egg. Again, mix the flax and water and let sit for 2 minutes before mixing with the other ingredients.

 
Some Recipes to Explore 
What would a blog on cooking and baking be without a few recipes? Boring, right? Well, never let it be said that we, at Veggie Fest, are boring!  
Do you love serving something special for lunch or brunch? Here is a recipe for chickpea flour omelets. They are easily made but delicious with the vegetables of your choice. Serve them with a nice vegan cheese sauce, made without oil of course! Or try them with pesto, marinara sauce, or salsa.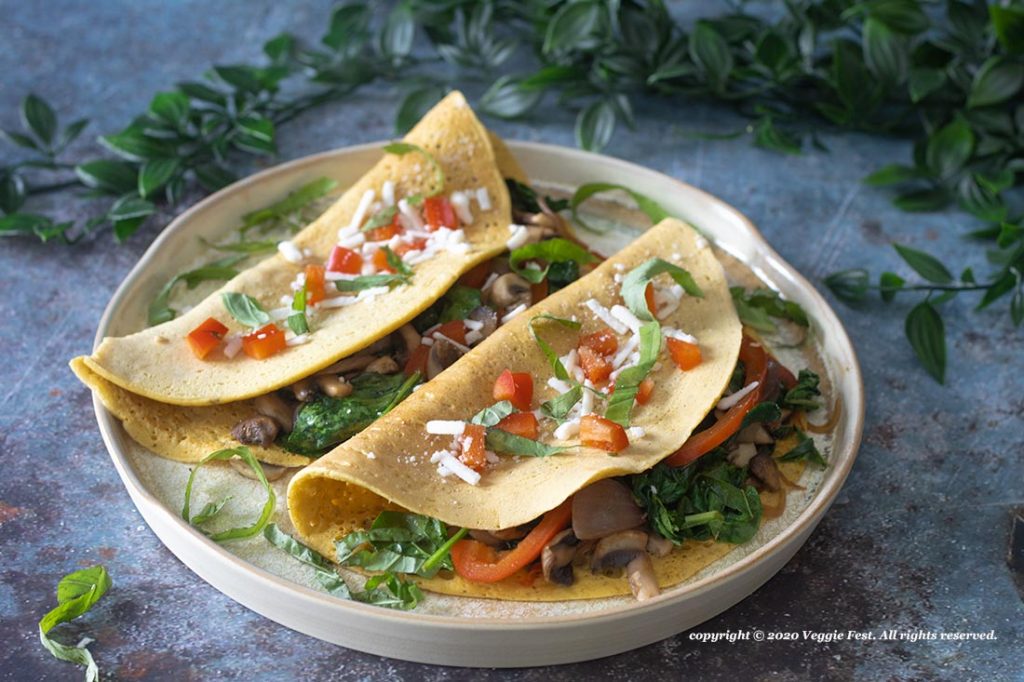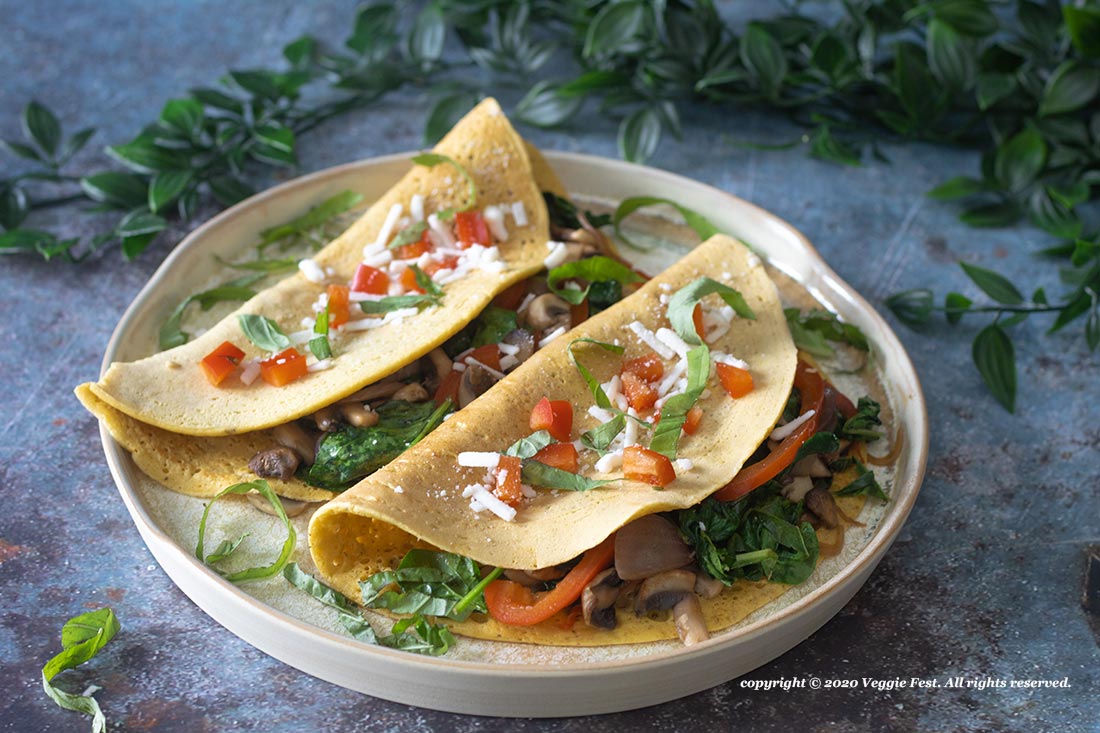 This next recipe is a remake of a fat and calorie laden Italian dish, Fettucine Alfredo. The secret sauce ingredient is cauliflower. When blended with soaked cashews and nutritional yeast, it makes a rich, velvety sauce. Add it to pasta and vegetables, or serve it over a baked potato and vegetables for a delicious, lower calorie version of an old favorite.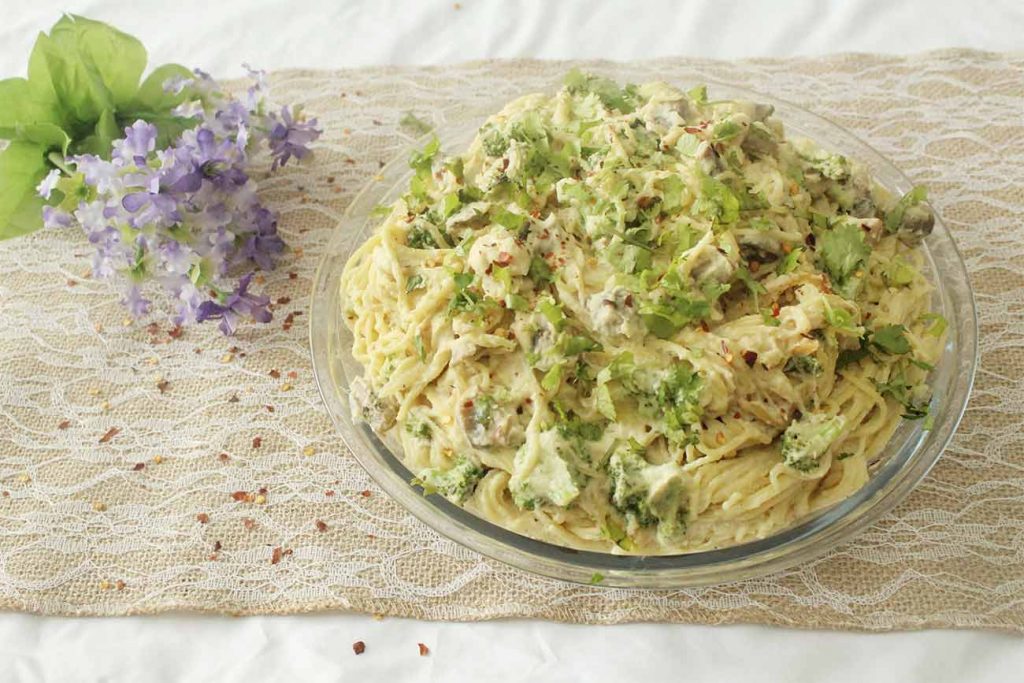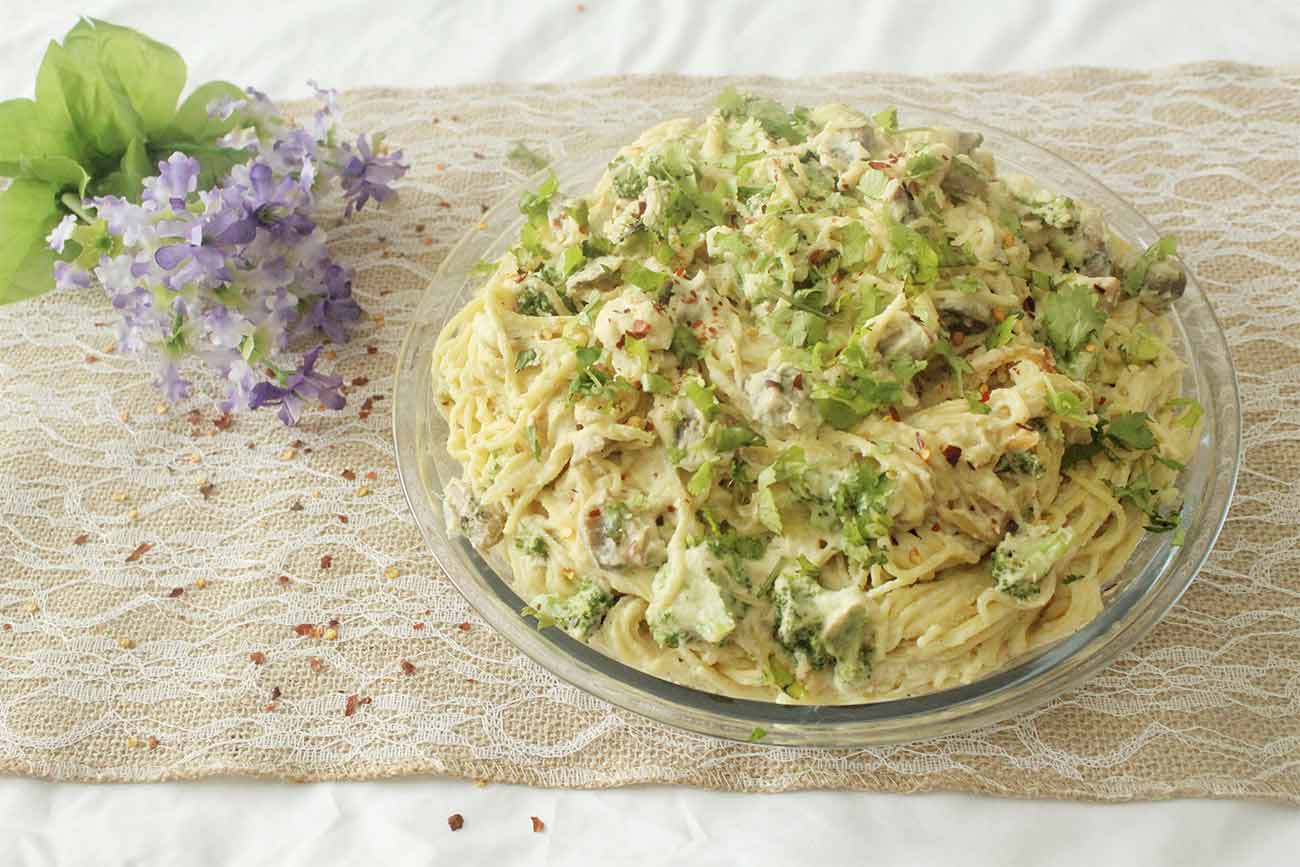 Explore our oil-free section in our recipe pages for many more ideas, and check back often as we add new recipes. Cooking without oil and butter may seem like a daunting task, but it is so much healthier for you and your family. As you become more comfortable and proficient, you will not miss the oil and butter!  
Mary Pomerantz lives in the Chicago area with her husband of fifty years. Together, they have been vegetarian since 1969 and raised their three children as vegetarians. Mary has always been a foodie and enjoys cooking, researching recipes, and reading cookbooks and food blogs. She has been involved with Veggie Fest since its inception, with over 11 years coordinating the food demos.