In the hustle and bustle of the season, let's think of one thing that we're grateful for—even something small. In that moment, we will step into the golden world of gratitude and begin to revel in the gifts sprinkled throughout our lives. They are as numerous as the crystalline flakes of the season's first snow. To help brighten your Thanksgiving table, we've gathered together a vegan feast of recipes. Enjoy!
We are all grateful that we will be able to meet with loved ones this year. After the long pandemic, we are all in need of human connection. Let's gift each other patience, kind words, and smiles.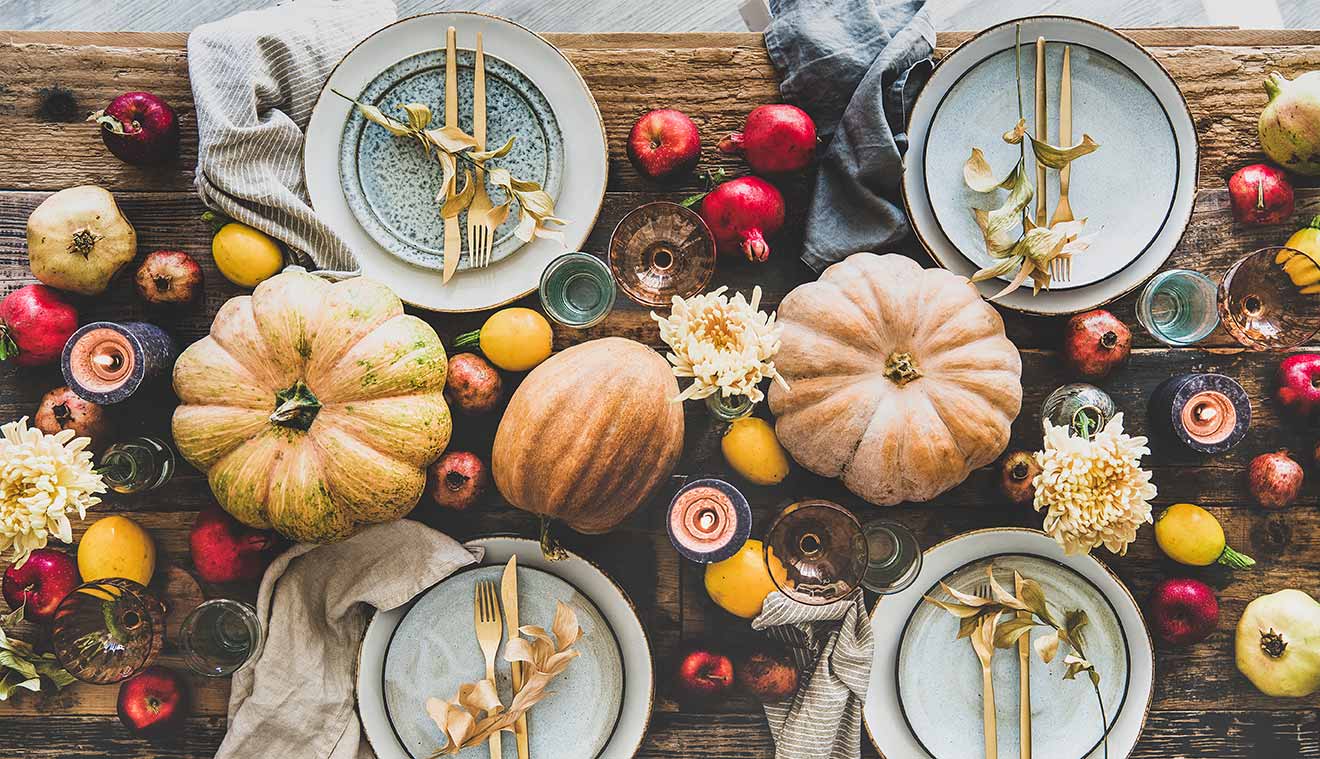 One of the most amazing human qualities we possess is our ability to empathize with others. We know that just as we want to stay safe, feel peace, and share love, so does every person on the planet. Finding even small ways to extend that empathy through acts of kindness and generosity commemorates the Thanksgiving spirit.
When we consider what we can do for others, we enrich our own experience of this holiday. By volunteering, donating food, or offering a special baked treat to a neighbor, we feel more connected to the rich fabric of life around us.
If you are looking for the perfect cake for the Thanksgiving meal or to share with a friend or neighbor, you can't go wrong with this decadent apple walnut cake made with fragrant holiday spices. It's both vegan and gluten free so can be shared with your entire family!
Most of us associate Thanksgiving with a table laden with delicious food. The plant-based way of eating offers many unique dishes or twists on old family favorites to tantalize the tastebuds. New vegetarians and vegans are often at a loss to find a main dish to serve their families. One way to dazzle your guests is to serve our Cranberry Orange Stuffed Acorn Squash. It's both pretty and delicious!
Although many people appreciate this holiday because it's not tied to a specific religion, others esteem Thanksgiving because it's a way to express our gratitude to the Creator. No matter how we name that experience of wonder and delight, Thanksgiving is a time to appreciate the presence of divinity in our lives.
As Sant Rajinder Singh Ji Maharaj has written, "God has not only provided for us to survive physically in this world but has also provided us with a way to nourish our soul. God has given humanity a way to go within to discover the divine glories. We are not confined only to exploring this world. We can tap into the inner realms through meditation."
If you are feeling lonely or anxious this time of year, one way to help is to sit in silent reflection and meditation.
Visit our 7-day Jumpstart to Meditation page and discover an easy and effective practice for enhanced wellbeing.
In keeping with most of our holiday blogs, Veggie Fest fans know that we like to add a historical framework, so here's a bit about the history behind Thanksgiving in the USA. After, we will spotlight similar celebrations that take place all over the world.
The official designation for Thanksgiving to become a national holiday in the USA was made by President Abraham Lincoln in 1863 during the Civil War. He declared the holiday to be "a national day of thanksgiving and praise to God for all that He has given us." Before becoming a national holiday, the first Thanksgiving may have occurred in the year 1621 when colonists in Plymouth held a feast with local natives after their first successful harvest.
This salad will add a fresh, delicious lift to your table.
History states that this three-day celebration would not have happened if the natives hadn't helped the colonists survive the first year in their new home. Not only did the natives offer food, teach the colonists how to fish and plant, but they introduced them to corn, a staple grain enjoyed today in most American homes. This is perhaps why cornbread and cornbread stuffing find their way into many Thanksgiving feasts.
This delicious tofu loaf with cornbread stuffing is a perfect centerpiece for your Thanksgiving meal.
Another dish indispensable to the Thanksgiving table is cranberry sauce. Cranberries are a super fruit native to North America. They have been prepared in mash, cakes, and teas ever since the native Indians planted the shrub in bogs across the land. Besides having an esteemed history and place in American cuisine, cranberries are also known to contain healing properties. With antioxidants superior to grapes, broccoli, strawberries and even spinach, cranberries help prevent infections, battle inflammation, reduce heart disease, and boost the immune system.
There are many versions of cranberry sauce, and no doubt you have your own family recipe. If you're looking for a way to dress up your table and offer something new, ours will knock your socks off. This raw, no-cook recipe can't be beat.
Regardless of how we may view the story of the first Thanksgiving in this country, without a doubt its spirit is rooted in generosity, empathy, and kindness. No matter where or how Thanksgiving is celebrated, however, the main intent is to emphasize gratitude for the gifts of life. As such, most Thanksgiving holidays are tied to the harvest and celebrated in the autumn. Now, let's take a look at how other countries celebrate their own similar holidays.
In Canada, Thanksgiving Day or Jour de l'Action de Grâce is celebrated on the second Monday in October. Canadians give thanks for a bountiful harvest, and families gather for large feasts.
In South Korea there is a harvest festival called Chuseok that is celebrated in mid to late September. It is a three-day festival with family feasts, wrestling, and traditional dancing.
The Vietnamese have their own festival day of thanks called Tết Trung-Thu held in August. It also includes giving thanks for the harvest and family feasts. Children enjoy lighting lanterns and dancing.
In Ghana, people hold the Homowo or Yam Festival in the month of May. This is a time to give thanks and rejoice when the crops are ready for harvest. Thousands gather in the streets for dancing, drumming, and face painting. Families celebrate by cooking yams in various ways: roasting, baking, boiling and adding them to various soups and stews.
Germans celebrate the Erntedankfest on the first Sunday in October with parades. This is a festival with a harvest queen, church services, choirs, speeches, lots of food, music, dancing, and fireworks.
In China and other parts of East Asia, the Moon Festival is celebrated in August. It has been held for more than 2500 years. It originated as a holiday to express gratitude for the changing seasons and to celebrate the fall harvest. Mooncakes are enjoyed as a special festival treat and eaten at picnics and dinners.
Japan has its own day of gratitude known as Kinrō Kansha no Hi, or Labor Thanksgiving Day, giving thanks for workers' rights. This celebration traces its origins back 2000 years to a ritual giving thanks for the season's first rice harvest.
Liberia was founded by freed American slaves who brought American customs with them to their new country, including Thanksgiving. On Liberia's day of thanks, there is a church service followed by family feasts. The typical feast always includes mashed cassavas.
Many of our fondest memories for Thanksgiving Day revolve around food. We've included some of our favorite recipes that just may become part of your own tradition! Most Thanksgiving tables offer seasonal vegetables and a salad. The recipes below are too good to be true. Enjoy one or both to your table. If you're planning to have leftovers, you may want to think again!
Whatever traditions you follow, we at Veggie Fest wish you a joyous and Happy Thanksgiving. Stay safe and enjoy the blessings of the day!