When it comes to pizza, what's not to like? Savory tomato sauce and melty cheese on crust—crispy or soft! Your favorite plant-based toppings from mushrooms and peppers to vegan "pepperoni" or "ham!" It's especially popular with kids, because pizza can be picked up and eaten with fingers and hands. Not surprisingly, an international poll rated pizza as one of the top three favorite foods in the world.
Since finding awesome ways to celebrate defines both Veggie Fest and our fans, let's talk pizza AND a party!
First steps to planning a fun night is to identify your crowd. Are you planning for your immediate household or extended family? Are you inviting neighbors or old friends? Once you've decided on your audience, go little or go big. Any pizza party involves three things: making pizza, playing games, and having fun. Even in your pajamas!
Getting your kids to participate from the get-go is essential. With a little prep work, even young kids can assemble a pizza, wait for it to bake, and . . eat!
Decide first whether you want to go all-out by making dough and the marinara sauce from scratch. If so, we've got you covered.
If it's a Friday night after work, you can also simplify by using a pre-made crust or dough, English muffins, naan, French or Italian bread.
Arranging the ingredients before your kids—or guests—arrive, guarantees a seamless celebration. Make your dough and sauce ahead of time or set out your prepared "crusts." Chop the veggies and arrange in separate containers along with your toppings and cheeses (vegan or dairy). Set your ingredients in the middle of a large table, and leave the perimeter for your pizza-making chefs. Add a bit of pizazz by changing the atmosphere with music. The best part of a pizza party is the conversation and community you're creating in your kitchen. You don't have to over plan, either. Make sure you're relaxed and participating, too. All hands on deck!
Homemade Pizza Dough
There is nothing better than a made-from-scratch pizza. Homemade dough and marinara sauce bring your meal to a whole new level. It tastes so much better than store-bought. All it takes is a bit of practice . . .
When using freshly made dough for your pizza party, you can prepare it ahead of time and refrigerate. Make the dough and let it rise for 45 minutes, cover, and refrigerate. About 2-3 hours before you are ready to assemble your pizzas, remove the dough and let it sit, covered, on your counter. Just before your guests arrive, divide the dough into balls about the size of a fist. Cover and let rest.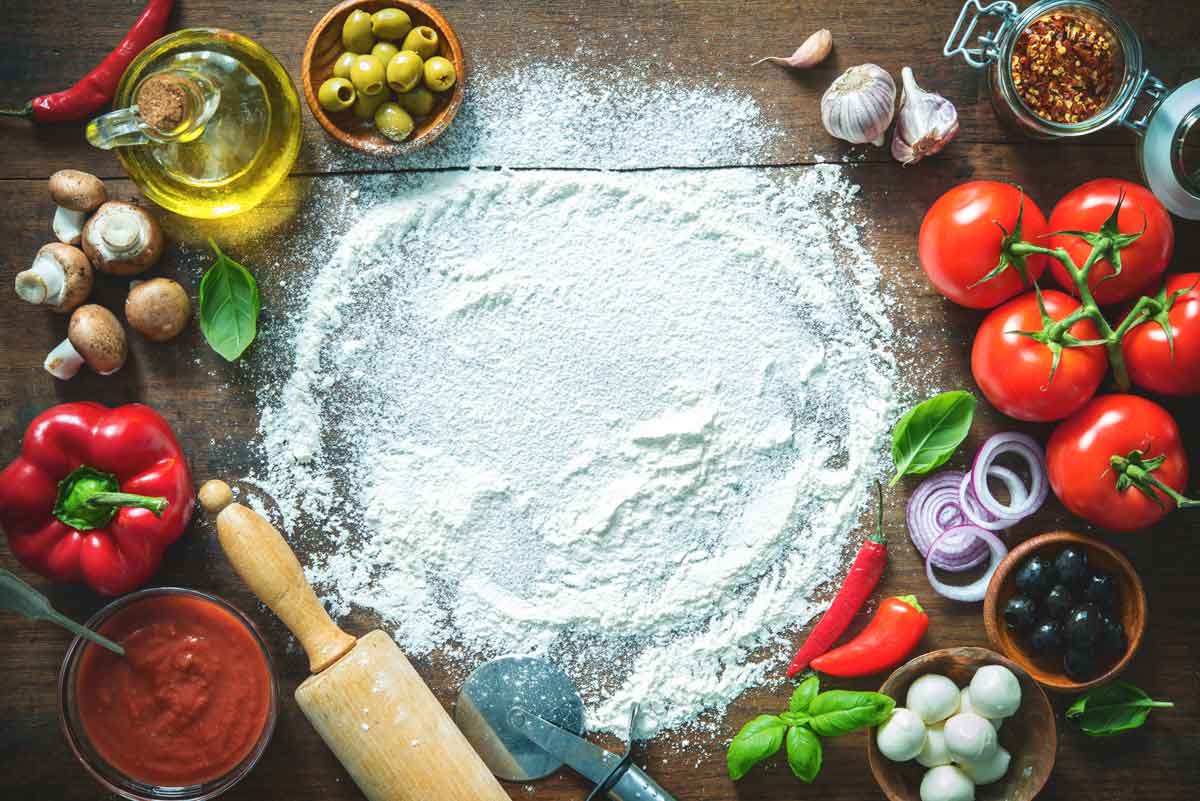 When ready to assemble the pizzas, let the children shape their own crusts and place them on the oiled or parchment-lined baking sheets. They may have as much fun with the shapes they create as with the toppings they choose. Once shaped, crimp or fold the edges. Follow the directions in the recipe for assembling and baking.
Try our Traditional Pizza Crust or our Whole Wheat Pizza Crust. 
English Muffin Pizzas
If you choose English muffins for your base, buy enough so each guest can have one whole muffin (and maybe another for seconds). Shortly before your guests arrive, split the muffins and place them on a parchment-lined sheet. Bake in a 400°F (204°C) for 3 minutes to crisp. After removing from the oven, cover the breads until you are ready to make your pizzas.
Assembly is easy. Top the muffins with sauce, mozzarella cheese (vegan or dairy), and assorted toppings. Return muffins to the baking sheet and place in a 400°F (204°C) oven for 10 minutes or until the cheese is melted, and the muffins are slightly brown on the edges.
TIP: If you have leftover baked pizzas, you can freeze them on a baking sheet first, and once they're frozen, store in the freezer until you're ready to use. For a snack or quick meal, place the frozen English muffin pizzas on a parchment-lined sheet, and bake in a 350°F (191°C) oven for 10-12 minutes or until cheese is melted and bread is warm.
French or Italian Bread Pizzas
If using French or Italian breads, buy a good quality bread as this will make or break your pizza. Depending on the size of your bread, you should be able to get 4-6 "slices" out of each half. Find a bread that has a soft rather than crispy crust.
Slice the bread in half, length-wise, and store in a bag until ready to use. Each half will become a "team pizza." This works great with older children who are more adventurous and apt to try new taste combinations and negotiate their pizza experience. Working together also makes the pizza taste better!
Sub sandwich buns also work great as pizza crusts. One per guest should be sufficient, and for children you can start with a half sub each.
Before assembly starts, preheat your oven to 400°F (204°C).
Unlike the English muffins, you don't have to crisp the crust first. On each half of your bread or bun, spread marinara or pizza sauce. Add toppings and cheese. On the middle rack of your oven, bake the pizza for 10 minutes or until the cheese is melted and the sides of the bread are lightly browned.
Remove from oven. Allow to cool slightly before slicing (if using a whole loaf rather than a bun).
Other Food Ideas
If your party guests are children, they probably won't need an elaborate table of foods to choose from. Consider a simple tossed salad, a plate of antipasto (veg of course!), and a bowl of fruit. For dessert, we suggest sorbet, ice cream, or Nice cream.
Ice cream is a natural pairing to pizza. If you want to continue the do-it-yourself theme, set out a few toppings, from chocolate to sprinkles to fresh fruit.
Party Ideas
To decorate for your party, remember that Italy's colors are red, white, and green. You can color small Italian flags or purchase at a party store. Create your own pizzeria by topping your tables with red and white checkered tablecloths—choose vinyl, if you can find them, for easy cleanup. If you can't find vinyl, check your local fabric store for gingham fabric (usually inexpensive) and select checks that are large.
If you're going all out, you can add pictures on your wall from Italy like the Leaning Tower of Pizza (oops! Pisa), the Colosseum, canals of Venice, a map of Italy, etc. Hang red, white, and green streamers and dangle a few balloons.
For your guests old and young, have a stack of blank paper or Mona Lisa coloring sheets (easy to print from the Internet) and ask your partiers to create their own contemporary Mona Lisa. What would a Mona Lisa today look like? Would she be a sports fan? a scientist? a musician? a chef?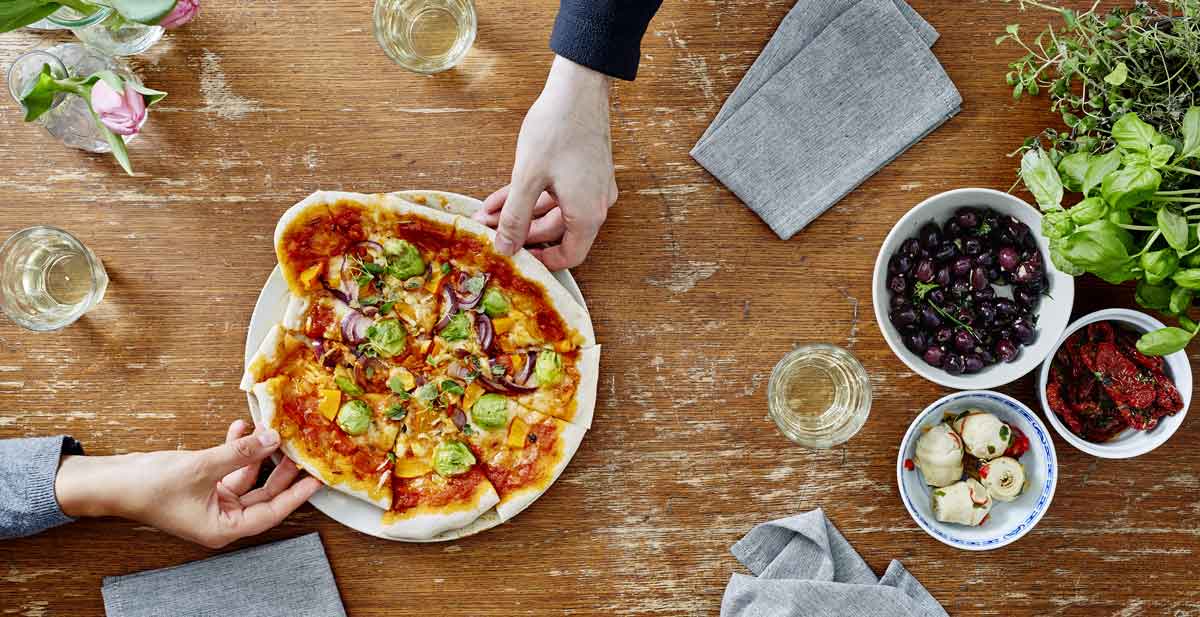 Games and Movies
Movies and pizza seem to go together. A lot of famous movies are set in Italy, but most of them are for older children or adults. However, there are classics that everyone likes: Disney's Pinocchio, Lady and the Tramp (for the best pasta scene ever), or go rogue and watch the French-inspired Ratatouille (for chefs of all ages). After your meal has finished and the games have been played, pop in a movie while you're cleaning up.
Some other choices for the older children or adults could be Letters to Juliet, Enchanted April, or a true classic, Roman Holiday. You could even stream an Italian opera like the fun, happily-ever-after ending, Barber of Seville.
If you'd rather play games, here are some fun, inexpensive party games that should appeal.
https://www.etsy.com/listing/741609221/pizza-bingo-printable-pizza-bingo-cards?ref=landingpage_similar_listing_top-3
https://www.teacherspayteachers.com/Product/All-About-Italy-Word-Search-2399606
https://quizzykid.com/quiz/fun-facts-about-italy-quiz/
Fun Pizza Facts
(Courtesy of https://www.eatthis.com/pizza-facts/)
The first pizza is thought to have been invented in Naples in the early 1500s.
The first documented pizzeria was opened in Naples in the late 1800s.
The first pizzeria, Lombardi's, opened in the United States in New York city in 1905.
Pizza in the US didn't become popular until after World War II when soldiers stationed in Italy developed a taste for the popular dish and started opening up restaurants back home.
NASA funded and tested a 3D printer that can make pizza for astronauts in space.
3 billion pizzas are sold in the US each year.
In the US, October is National Pizza month!
-by M for the Veggie Fest Team