Dear Veggie Fest families and friends,
In this blog we bring you two very special letters from Santa and Mrs. Claus. We were thrilled to receive Santa's message sent to the Children of the World. Additionally, Mrs. Claus reveals some of her favorite cookie recipes to enjoy, share, and give as gifts. No matter what holiday you are celebrating or wherever you live on this beautiful planet, the Veggie Fest Team wishes you peace, joy, abundance, and fellowship. As Santa says, "at the core of our festivities is universal love." Wishing you a season that's merry and bright.
P. S. At the end of this blog, you will find a fun game that children can play by decorating their choice of whimsical trees.
Merry Christmas from Santa and Mrs. Claus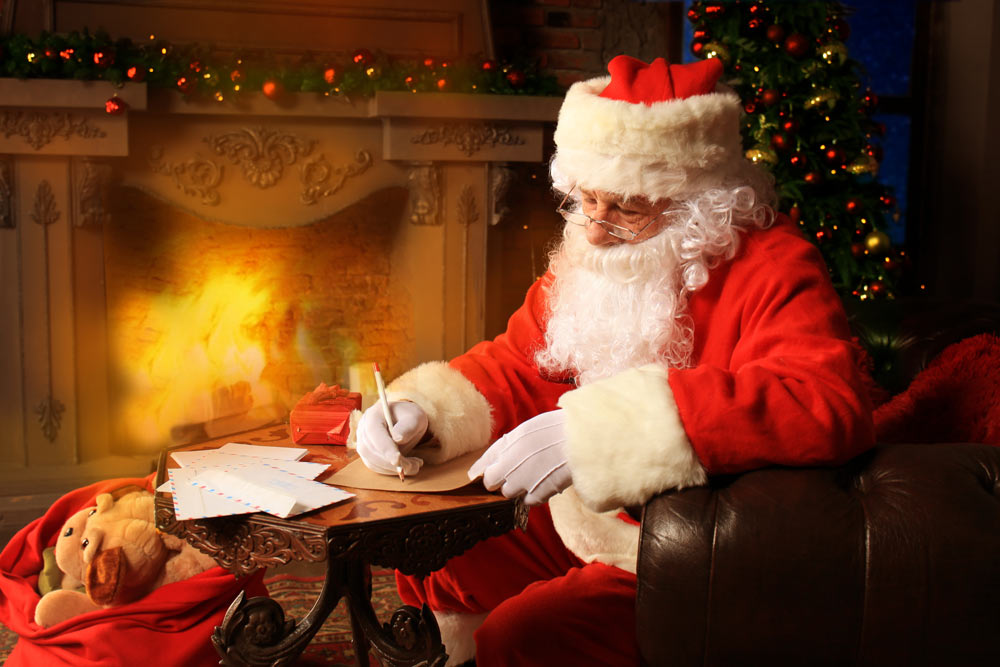 Dear Children of the World,
It's once again the holiday season where I assume my role as Santa Claus. It's a time for giving, and a time for receiving. Christmas, like many holidays this time of year, is celebrated around the world in different ways and in different cultures. At the heart of all these festivities is universal love.
Every year I receive an untold number of Christmas wishes from letters, emails, and tweets. This year, we are still being challenged with a worldwide pandemic and some of you children are concerned about my visit. Rest assured that the North Pole is still taking all recommended precautions to stay healthy ourselves and to keep your families healthy, too, with our midnight deliveries.
Mrs. Claus has made me a wonderful bright red and green facemask that fits me perfectly even with my beard. The elves have their own facemasks in various Christmas colors and prints. It's a happy, festive time preparing for the big night.
When I make my Christmas Eve deliveries you will all be asleep in bed, so social distancing will be in place. I will be wearing my facemask and my gloves to keep your home safe. Christmas magic will also be used to sanitize all of the presents.
Gift giving is a common practice not only from Santa Claus to the children of the world, but from one person to another. Yes, it's nice to receive a present from someone, but just as much joy is received when we give presents to others. I receive many Christmas gift requests, but the ones that warm my heart most are those when someone tells me what they wish for someone else. This is an example of the gift of love. That's the true spirit of Christmas.
During this festive season, gift giving can also extend to making someone's day happier and brighter. Try saying "Happy Holidays" or giving someone a big smile. You can help a teacher, a neighbor, or a parent. For example, you can help a friend or family member clean the snow from the sidewalk. Any simple tasks performed by you will make others smile.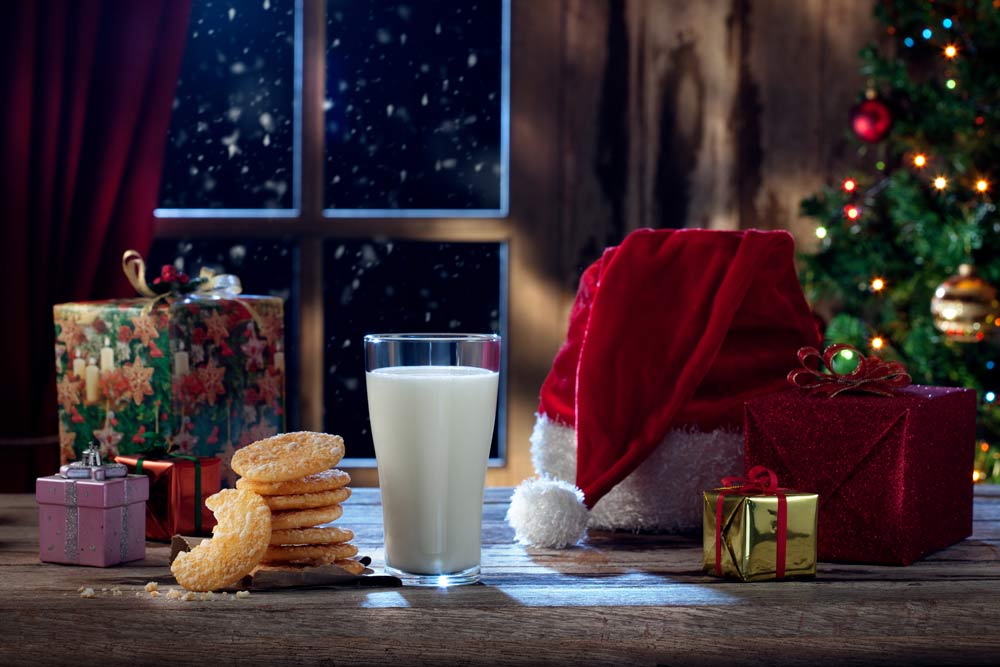 Instead of buying a gift for those you love, make a Christmas gift yourself such as a handmade Christmas card. It's the thought of love that counts the most.
When you leave treats out this Christmas Eve, my favorite food recipe web site is www.VeggieFestChicago.org. There are many cookie recipes that I really enjoy. Of course, setting out hot chocolate with cookies is always appreciated.
By the way, the Veggie Fest website has recipes that children can make with a bit of help. In the spirit of gift giving, cookies made by you are a wonderful way to treat others. As you make them, be sure to add the ingredient of your kind and loving hearts. That's the Christmas magic "secret ingredient."
During this Christmas season, experience the joy of giving, stay safe, love each other, and "Go Jolly."
Ho-Ho-Ho!
Santa Claus
A Note from Mrs. Claus
Hello Boys and Girls!
I can't believe it's Christmas time again! We've been so busy here in the North Pole getting toys ready for Christmas Eve that time passes in the blink of an eye!
You know, children, every year Santa stops at your houses, and many of you leave treats for him to eat and drink. I'd like to share with you some of his favorite cookie recipes and beverages. You and your mom (or dad!), aunti or uncle, brother or sister might want to try them out. Guaranteed, they're delicious!
I learned to make this first cookie when I was young like you. My own mother taught me how to bake it, and it's always been one of my favorites. This crisp, buttery cookie almost melts in your mouth. The best thing is, you can help decorate them yourself! Santa would love that.
Another cookie recipe I'm going to share with you is gluten-free. You see, boys and girls, I can't tolerate gluten, and so Santa always makes sure to bring me some of the gluten-free cookies that he finds at some of your homes. This is a spicy gingerbread cookie that is perfect for making and iced gingerbread men. I hope you enjoy it!
This next cookie is elegant and crispy. It's made with almond flavoring and filled with raspberry jam. You could help your mom cut out the cookies to bake and then spread the jam on once they're cool. If you want to try something different, you can substitute the jam with chocolate icing and crushed peppermint candy.
Santa really loves this date cookie. A sandwich cookie made with brown sugar, it's then filled with dates flavored with orange. It makes my mouth water just thinking about it!
Do you like hot chocolate? So does Santa, especially if it has a peppermint stick to stir the whipped cream into the chocolate! We love this non-dairy recipe from the Veggie Fest website.
Another drink that is popular at the North Pole is eggless eggnog. It's thick and creamy and a little bit spicy, like a gingersnap. It's even better if you put a spoonful of whipped coconut cream on top!
Do you have a favorite teacher or neighbor you want to leave a gift for at this time of year? A box of your favorite cookies, a jar of candied pecans tied with a pretty Christmas bow, or a box of homemade candies makes a wonderful treat. Veggie Fest has two delicious recipes for you to make with your mother's help.
Well, children, I hope this helps you get ready for Santa's visit on Christmas Eve. We have so much to do before the big night. There are blocks to paint and dolls to make, and trains to assemble. I must get back to work!
Remember to help out your moms and dads at home. They have so much to do to make your holiday merry and bright.
Hugs and kisses,
Mrs. Santa Claus
While the cookies are baking, why not decorate a Christmas Tree?
Decorate A Christmas Tree for Fun!